Hi - Welcome to my new store here at Zazzle. I am really excited about my new business venture here at Zazzle.
If you would like to see a design on a product that is not displayed, please feel free to email me at mindy@naturetees.com and I will be happy to accomodate you.
Naturetees features the work of artist and illustrator Amy Cappelli, retro artist Andy Nortnik and Luke and Mike at Massive Brain.com, AND myself, of course!
I have been adding quite a bit of digital art to my Zazzle gallery. Most of these pieces were created a couple years ago - I participated in several Flickr digital art and photography groups. I have not done much digital art recently - I may start again - depending on the response to this gallery. Sales are great, but everyone's comments mean just as much, if not more. I am pretty addicted to Photoshop and using various filters and plug-ins, and I am interested in hearing what others think of my work. I am also interested in what others are doing, so please leave me a link to your gallery.
Thanks for stopping by my new Zazzle gallery. I have big plans for my gallery, but I need to learn the ropes here first!
Regarding my business cards - they will never be too "flashy". They will be readable, simple and the focus will be on the important info. I have gotten so many business cards from folks that are too bright, too bold, and practically unreadable. If you would like a custom order, feel free to contact me at orders@naturetees.com.
Mindy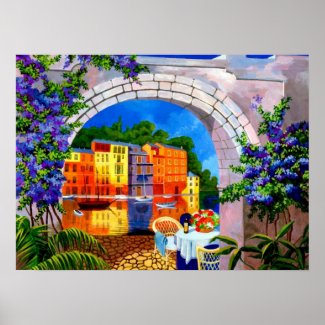 The Cafe Print
by

pugmom4

Get this
custom print
at
Zazzle