Latest updates: I've added a few photographic business cards to my gallery lately, and a few more from hand-drawn artwork. More new artwork is on the way, as I have quite a few drawings in-progress. In the meantime, please enjoy the new products I've added, created from other original artwork here on the site.
***
My artwork is inspired often by nature and personal experience, leading to the creation of the drawings, paintings, and photographs here in this gallery. From the intricacy of henna mehndi patterns to the strength found after suffering the loss of a loved one, I devote a great deal of myself to each unique design. I often idealize the beauty of nature and see my passed and beloved pets in serene perfection. These designs adorn everything from posters and prints, mugs, t-shirts and apparel, to postage stamps and more. I hope you find something here that you like or something that speaks personally to you.
Please feel free to look around, as there are many items, new and old, in the categories on the right. New drawings and paintings, photographs, graphics, text and humor can be found, with only a small sampling of merchandise here on the front page. Enjoy your visit here, and come back soon!
:)
R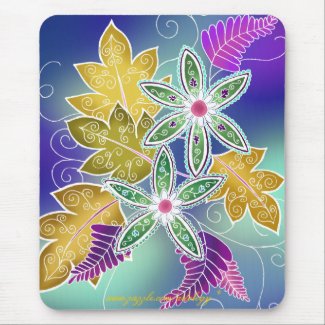 Autumn Glow Mousepad
by

artology

Get this
custom mousepad
at
Zazzle